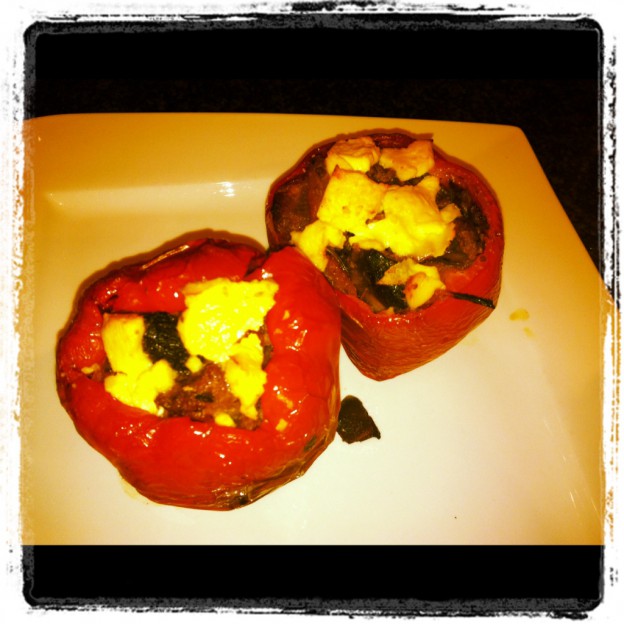 For dinner last night I made some delicious stuffed red capsicums with lamb. Brian absolutely loves this meal and claims it's one of his favourites so I thought I should share the recipe with you all because it's definitely a good one for the colder months and it's so easy to make, is yummy and super healthy. First of all let me touch on how healthy this recipe is for you…. Lamb is not only a great source of high quality protein that helps maintain healthy muscles but it also contains zinc and iron which are easily absorbed by the body. Zinc is good for warding off colds and flu and keeping the immune system healthy Garlic is a natural antibiotic. Has been known to help fight the common cold. Help lower bad cholesterol (LDL) and high blood pressure and also is packed with vitamins and minerals such as vitamins A, B, B2, C and calcium. Onion has similar health benefits to garlic. They are a great source of vitamin C, B6, Chromium, calcium and fibre. Rosemary contains substances that is useful for stimulating the immune system, is an anti-inflamatory, increases circulation and is known for improving digestion. Eggplant contains anti-oxidants which are anti-agingOregano is a rich source of fibre, is an anti-oxidant, contains vitamin C and minerals such as potassium, magnesium, iron Tomato reduces the risk of heart disease. One of the most well known eating benefits of a tomato is it's Lycopene content which is a powerful antioxidant Balsamic Vinegar contains antioxidants which are anti-ageing and helps the digestive system Goats Cheese is a good source of calcium especially for those who are lactose intolerant and it's delicious.
Stuffed Capsicums with Lamb and garnished with Goats Cheese 
6 red capsicums
400g of organic grass fed Lamb Mince
1 Red onion diced
Half eggplant diced
3 sprigs of fresh Rosemary- chopped
4 fresh Roma tomatoes – chopped
1 tablespoon dried Oregano
2 tablespoons of Balsamic Vinegar
3 garlic cloves
Method: Pre-heat oven to 180 degrees. Remove the insides of the capsicum including the seeds. Place capsicum into oven for approx 15 mins to heat them and slightly cook them. Whilst capsicums are in oven, place some olive oil into a saucepan and put on medium heat. Add mince into pan and once meat is lightly browned, add onion and diced eggplant and cook until eggplant has softened. Add in the rest of the ingredients and cook for approximately 15 mins. Pull capsicums out of oven and add in stuffing into the middle of the capsicum and fill to top. Garnish with Organic Goats cheese. Put the Capsicums back into the oven again for another 20 mins. Once cooked you can then serve them. Sometimes I serve them with a side of steamed greens.