Sydney Personal Training: Achieve a
Complete Body Transformation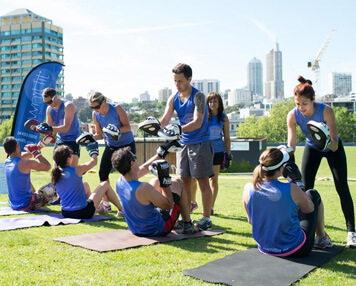 Smash your weight loss and fitness goals in an empowering, workout environment.
Become a better you with our help. Own It Fit provides holistic health and fitness services that will help you achieve a radical physical transformation. We run regular group and individual training sessions throughout Sydney that provide a full body workout.
Our qualified team offers clients the guidance, motivation and support they need to completely transform their physical health and wellbeing. We don't just build muscle – we build confidence. Get the self-belief you need to make any workout a success. Working out with a supportive team under a knowledgeable and experienced trainer can change anyone's life. Let us show you how.
Our focus
The Own It Fit trainers are dedicated to improving your overall fitness, health and quality of life. Whatever your ability and whatever your goals and needs, we can help you achieve the results you want at the pace you want. Trust us to safely and effectively guide you to a cleaner, better lifestyle. Find out what a difference we can make in your quality of life.
We believe that there is a hierarchy of needs when it comes to achieving a complete body transformation.
These focus on the following four principles:
The motivation to achieve
The correct nutritional intake
Regular exercise
Maintaining a healthy lifestyle
Our team will drive you to achieve your goals and provide you with the tools you need to transform your lifestyle. A significant part of this involves educating clients and helping them form healthy eating habits. Our trainers also provide comprehensive workouts for all fitness levels. Whether you are a fitness fanatic or a couch potato, we can help create a fitter and healthier you.
Transformation training sessions
Own It Fit runs group training sessions in the CBD, Inner west and eastern suburbs of Sydney. We make it extremely easy to get in the best shape of your life with a full range of accessible programs. We know how hard it can be for people on a budget to give themselves the fitness and care they need, so we it affordable to get fit. For about the price of a cup of coffee per day – you can join our 14 day Fat Furnace program and shed those pesky kilos. Looking to really change your life? Our six week body transformation challenge can help you burn as much as 15kg and leave you looking toned and chiselled.
Our classes are small, intensive and held outside in local parks. We run regular boot camps and individual training sessions that allow us to focus exclusively on a client's personal goals. Our trainers even offer private classes to corporate groups in the area.
Our six week challenge and 28 day program is an amazing opportunity. Undergo a true body transformation; Sydneysiders can shed as much as 14 kilograms in a month and a half without calorie counting. We'll guide you every step of the way with expert workout advice, a meal plan for the entire duration of the challenge and unlimited access to training by our qualified and knowledgeable trainers.
We'll keep you focused and motivated with weekly phone calls from one of our expert team.
Book our sessions today
Shed those extra kilos and get fit fast with Own It Fit's complete body transformation services in Sydney. Call us on 1300696483  to book a class or find out more about Own It Fit.
Check our new site!
Read More