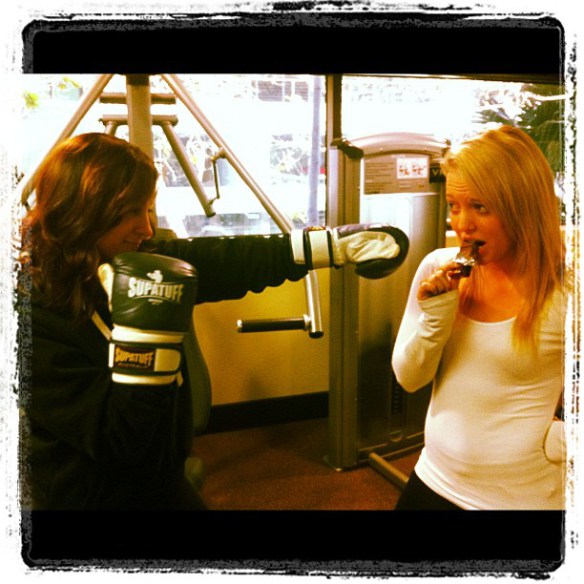 Does this sound like you? In summer you are an exerciseaholic.. you hit the gym, swim, even do a bit a of summer hiking and eat a low carb, high protein diet to be in tip-top shape and now that it's cooled down… you're a little less inclined? It's now June and it's the first month of winter, it feels as though the chill has definitely settled in and the days are shorter and colder. At this time of year motivation decreases and you can find excuses to not exercise. I say embrace the cold! Winter is the best time to work out outside, because you burn more calories if your body has to exercise and keep itself warm at the same time.
14 simple reasons to stay motivated this winter!
1. The benefits of cardio are amazing… It's not only good for your heart, lungs and circulation… it also helps keep flu and colds at bay so basically the fitter you are, the less likely it is you will get sick.
2. Find a winter sport you love! I play Oztag and lucky for me they have comps pretty much all year round. If you don't want to be outside… think about indoor activities such as basketball, netball, soccer etc.
3. Now, we all know we turn to comfort food during the colder season and that means more kilojoules… what happens when we eat more and exercise less? We gain weight… guys it's not rocket science so think of exercise as a longer term investment.
4. Struggling still? Get a personal trainer, try a boot camp or find a buddy to train with. Training with someone will help keep you motivated.
5. My favourite reason besides that fact that I'm addicted to exercise is that it produces endorphins and endorphins make you happy! Exercise helps fight the winter blues…
6. Plan ahead… decide what days you want to hit the gym and book in them into your diary. Commit to a minimum 3-4 days per week.
7.Sleep! Ensure you get 8-10 hours sleep per night. Sleep is a critical part of your fitness journey. Sleep deprivation can cause irritability, sugar cravings and weight gain. Getting the recommended amount of shut-eye gives you energy to exercise.
8. Do you ever feel like putting your boxing gloves on when you hear Eye of the Tiger playing on the stereo? Music can do wonders to get you in the mood… put a good collection of upbeat music together on that iPod of yours and get your groove on.
9. Keep Hydrated! Just because it's colder and we sweat less doesn't mean we should drink less water. You should still be drinking about 2 litres a day. And if you feel like it's too cold for just water… opt for a herbal tea (caffeine free) every now and then.
10. Staying active doesn't have to be boring. It's winter so take advantage of it and head to the snow for some skiing or snowboarding. Did you know that skiing improves your cardiovascular system, tummy muscles, glutes, quads, inner and outer thighs, hamstrings, calves and arms? The same goes for snow boarding… and it's fun! Ladies if you're not interested in the snow, Zumba is another option.. you know what they say… it's not just a work out… it's a dance party 😉
11. Make sure you are eating a balanced diet with seasonal vegetables and grass-fed organic meat. This is the time to get your slow cooker out and take advantage of making stews, casseroles, soups and slow cooked Osso Bucco (that's what's on our menu tonight). Check out the list of veggies that are in season at different times of the year attached… http://www.marketfresh.com.au/images/downloads/VegetableGuide.pdf
12. Go outside and get some sun (if it stops raining!). You only need 10-15 mins a day. It will make you feel revitalised, invigorated and you will get a hit of vitamin D which is vital for good health, growth, strong bones, calcium absorption and immune function.
13. If you are feeling tired and worn out from a busy day at the office… just going for a 30 -40 min walk will still do you a world of good. Fresh air helps clear the mind which is good for dealing with stress and it's better than sitting on the couch.
14. Eat less sugar! In my last post I talked about how bad sugar is for the body. It's been linked to so many diseases and also weakens the immune system which then leads to cold and flu's during this period.
So before you start making excuses… put down that chocolate bar and get that butt moving! There is no point in slacking off this winter and then freaking out once summer comes around because you are months behind in that training schedule. Why not just keep moving all through winter and feel great at the same time 🙂 It's your choice… so own it!
Comments
Mark May 13, 2016 at 12:07 am
WyKmZ0 http://www.y7YwKx7Pm6OnyJvolbcwrWdoEnRF29pb.com
Comment awaiting moderation.
ApproveDeleteSpam
ReplyEditLinkQuote
JimmiXS August 10, 2016 at 2:43 am
ZJoFsl http://www.FyLitCl7Pf7kjQdDUOLQOuaxTXbj5iNG.com
Comment awaiting moderation.
ApproveDeleteSpam
ReplyEditLinkQuote
JimmiXS August 13, 2016 at 1:49 am
tsaspi http://www.FyLitCl7Pf7kjQdDUOLQOuaxTXbj5iNG.com
Comment awaiting moderation.
ApproveDeleteSpam
ReplyEditLinkQuote
Barnypok January 3, 2017 at 10:20 pm
2rAsJf http://www.FyLitCl7Pf7ojQdDUOLQOuaxTXbj5iNG.com
Comment awaiting moderation.
ApproveDeleteSpam
ReplyEditLinkQuote
Ernestsox December 2, 2017 at 7:51 am
Organic Matcha Green Tea Powder – 100% Pure Matcha (No Sugar Added – Unsweetened Pure Green Tea – No Coloring Added Like Others)
http://s014.radikal.ru/i329/1711/11/7334b5fbc247.jpg
Get 50% OFF Coupon Code -> http://bit.ly/MATCHA-50-OFF
– INCREASE MEMORY AND CONCENTRATION – The L-Theanine provided in a serving of Matcha Green Tea provides good, clean energy that can last up to 6 hours.
– MOOD ENHANCER – Matcha also contains L-theanine, an amino acid known as a natural mood enhancer.
– ENERGY BOOSTER – There is caffeine in Matcha, however, releases into the bloodstream slowly; resulting in a much gentler influence on the stomach.
– DIGESTION ENHANCER – The gentle caffeine boost is also calming on the rest of the body – many find it gradually aiding with digestion, healing, and cleansing.
– LOWERS CHOLESTEROL – people who drink Match Green Tea on a regular basis show lower levels of LDL (bad) cholesterol while at the same time displaying higher levels of HDL (good) cholesterol. Matcha green tea powder contains 60% EGCg (epigallocatechin gallate) which helps promote these benefits.
– FAT BLOCKER – Matcha green tea contains the polyphenol EGCG, a thermogenic component believed to boost metabolism and may aid the body in burning fat faster.
– INCREDIBLE TASTE – It smells fresh and inviting like freshly blended vegetables. While it has a sweet, natural taste, there are also hundreds of recipes that it can be blended into to help add amazing health benefits to every meal!
Get 50% OFF Coupon Code -> http://bit.ly/MATCHA-50-OFF