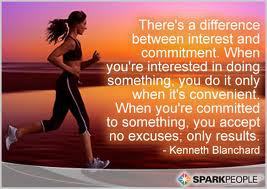 As New Years passed I heard the words "I'm never drinking again" being thrown around a lot and I bet once you were back at work again you succumbed to that Friday evening after work drink. Now I'm hearing "I'm not drinking 'til Australia Day" and you only had your last drink on the weekend… hmmmm! As some of you know I tied the knot with my hubby at the end of last year so besides wanting to look fab in my wedding dress I also wanted to tick off some personal goals and one of my goals last year was to increase my running- I was not a lover of long distance running so for me to stay motivated was going to be a bit of a mental challenge. So I decided to enter some events such as City2Surf, Sunshine Coast Half Marathon and Tough Mudder to get me training and loved that I had some new challenges in place. Once you've signed up to an event it's easier be committed especially if you are raising money for a charity. These factors will need to be incorporated into your training:
Be specific about what you are training for
How are you going to measure how successful your training is
Your goals should be realistic. Start a level at which you can progress. If you are a beginner your progression per month will be slower week or monthly goals as in comparison to someone who is a sports person
Is your training relevant to help achieve your goal
Time is also important. Set a time in which you want to finish the event. Or if it's your first time and you want to make it to the finish line… set a goal in your mind. For example you want to complete the 7km Dee Why to Manly fun run on the 2nd Feb. This way you are envisioning your goal.
This way your training will be focused and gives you a goal to work towards and it can be measured as you progress. By measuring your goals week by week or month by month will help you achieve your goal. I've already started adding events to my Own it Fit calendar and the first one is the Sun Run – Deewhy to Manly
http://www.sunrun.com.au/
. Don't wait till next year, you should sign up now and run with The Own it Fit team. It's only less then 2 weeks away but it's a great way to start the year by getting in early. The race is an early start – 6.45am so the team will be having a much deserved delicious breakfast afterwards
If you have any questions please ask away.  Our passion is for health & fitness and would love to help you on your journey. Own it Fit It's your choice so own it!